Your Best Budget Tibet, China and Nepal One-Stop Tour Expert.

Nepal Tibet Group Tour
With the opening of Gyirong Port, the new Sino-Nepal Border, travelling between Nepal and Tibet becomes much easier and more popular.
Nepal Tibet tours offer you a once-in-a-lifetime chance to experience the cultural, natural and other aspects of life in the Himalaya Ranges.
Situated in the foothills of the Himalayas, Nepal is a wonderful country with amazing ancient cities, challenging trek routes and spectacular natural beauty. Tourists can explore mysterious royal life in Kathmandu Valley; enjoy leisure hike and thrilling parasailing at Pokhara; experience jungle adventure through Chitwan National Park, etc. Tibet, the roof of the world, is home to beautiful architectural buildings, splendid Buddhist culture, numerous holy lakes and mountains. Tourists can take in the fabulous Potala Palace, bustling Barkhor Street, turquoise Yamdrok Lake, prestigious Tashilhunpo Monastery, etc. And you can even make a detour to visit Mount Everest - the highest peak in the world.
Besides, we also organize memorable trips from Lhasa to Kathmandu and help you enjoy the essence of Nepal and Tibet at the most competitive price. Check the departure dates in 2017 & 2018 or just tell our Tibet travel guru to tailor-make your journey to Lhasa and Kathmandu!
Most Recommended Nepal Tibet Small Group Tours
Here are the most classic Nepal Tibet tour routes incorporating the best of Nepali and Tibetan sites and culture.
Get Inspired by More Tibet Tour Packages
Of course, travelling in and around Lhasa is only a small appetizer of awful lots of adventurous tours lying ahead in Tibet. With time permitting and decent budget, never miss the chance to explore mind-blowing mountains vista in Everest region and walk the kora in holy Mt. Kailash and enjoy other wild Tibetan festivities. Check more thrilling Tibet tour packages below.
Latest Tibet Travel Advice Articles
Need more professional help for planning your upcoming Tibet tour? No worries! Click the latest Tibet travel advice and get to know loads of useful tips before heading to Tibet.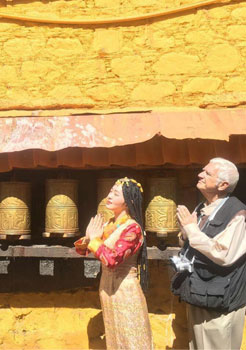 Email: inquiry@tibettour.org
Start Planning your Own Exciting Trip to Tibet
Our tours are fully customizable and available 365 days a year! Just tell us your rough travel idea, and one of our seasoned Tibetan tour experts will reach back to you and work with you to customize your Tibet tour, with a favorable quotation and exciting itinerary FOR FREE.