Your Best Budget Tibet, China and Nepal One-Stop Tour Expert.

China Tibet Group Tour
Our China Tibet group tours are designed for the budget tourists who would like to visit China major cities and Tibet all together at the most competitive price.
You can trace back to the ancient history of Ming Qing Dynasty in Beijing, explore the cradle of Chinese civilization in Xian, enjoy the epic cruise of Great Yangtze River from Chongqing to Yichang, get a closer look at the adorable pandas in Chengdu and Giant Buddha in Leshan, appreciate the stunning natural scenery along Li River Cruise from Guilin to Yangshuo, experience the profound Buddhist culture and exotic customs in Tibet, etc.
As a Tibetan local travel agency, running local offices in Beijing, Shanghai, Xian, Chengdu, Xining and Guangzhou, you will get more than just a small group tour package from Tibettour.org, and will get a personalized experience from start to finish at LOWEST possible price.
Most Recommended China Tibet Small Group Tours
These 5 itineraries are the most classic China tour routes including Tibet, and no matter which city you prefer to start your trip, you will definitely find the right one.
Get Inspired by More Tibet Tour Packages
Of course, travelling in and around Lhasa is only a small appetizer of awful lots of adventurous tours lying ahead in Tibet. With time permitting and decent budget, never miss the chance to explore mind-blowing mountains vista in Everest region and walk the kora in holy Mt. Kailash and enjoy other wild Tibetan festivities. Check more thrilling Tibet tour packages below.
Latest Tibet Travel Advice Articles
Need more professional help for planning your upcoming Tibet tour? No worries! Click the latest Tibet travel advice and get to know loads of useful tips before heading to Tibet.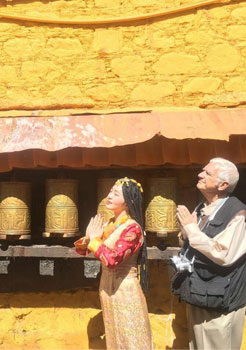 Email: inquiry@tibettour.org
Start Planning your Own Exciting Trip to Tibet
Our tours are fully customizable and available 365 days a year! Just tell us your rough travel idea, and one of our seasoned Tibetan tour experts will reach back to you and work with you to customize your Tibet tour, with a favorable quotation and exciting itinerary FOR FREE.